Number 882 - M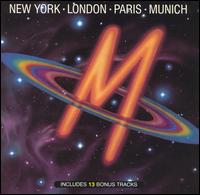 Number 882
M
"Pop Muzik"
(1979)
.
.
.
"M" is really Robin Scott, a one hit wonder in all the true sense (ie. no other hits).
Here's some information if you really want to know, who am i to stand in the way of knowledge!
"The

song

"Pop Muzik" was performed by
Robin Scott
, also known as
M
. He was a producer and musician, and the song was written as his resume of twenty-five years of pop music and being in the music business since
1954
.
The

song was originally titled "
Bob Griese
" – a tribute to six-time Miami Dolphins MVP quarterback. The title and song was changed before release after focus group tests.
Among the other musicians who played on the track were his brother Julian Scott (on bass), then unknown keyboardist
Wally Badarou
, Canadian synthesizer programmer John Lewis (who died of
AIDS
in
1985
) and Brigit Novik, the backing vocalist whose put the 'pop' in the 'muzik'. When it was released in the UK in early
1979
, it became a huge hit after which MCA Records requested an album."
"The
12-inch single
version was notable for the
B-side
having a double groove such that the two tracks ("Pop Muzik" and "M Factor") both started at the outer edge of the record and finished in the middle (with a long silence at the end of "M Factor" since the track was the shorter of the two). This resulted in a fairly random selection of tracks"
"Pop Muzik" is widely considered one of the forerunners of the use of synthesizers in mainstream music"
Ahh, take me back down to 1979 please Mr Pumpkin.
Rolling Stone Top 500 Songs ranked this song at Number

(I'm sorry, we are not here right now)

and the Album ranked at Number

(but if you leave your name and number after the beep)
This song has a crowbarred rating of 58.7 out of 108
By The Year 1955 to 2005:
1955, 1956, 1957, 1958, 1959,

1960

, 1961, 1962, 1963, 1964, 1965, 1966, 1967, 1968, 1969,

1970

, 1971, 1972, 1973, 1974, 1975, 1976, 1977, 1978, 1979,

1980

, 1981, 1982, 1983, 1984, 1985, 1986, 1987, 1988, 1989,

1990

, 1991, 1992, 1993, 1994, 1995, 1996, 1997, 1998, 1999,

2000

, 2001, 2002, 2003, 2004, 2005
Labels: M